See more articles
Torqeedo electric outboards
Can an electric motor replace the conventional outboard?
Torqeedo electric outboard motors have been on my radar for a few years now, but I got my first chance to really try one Torqeedo's latest offering in the water – the Twin Cruise 4.0R, rigged on a 16-foot seven-inch River Hawk 1686 Bay Hawk, a center-console flats skiff. That's a full-size boat, not some little dinghy, and as he nudged me away from the dock the Torqeedo rep told me that it would plane.




I motored silently through the marina, a man called out, "Will that thing plane?" I gave him a shrug.

But on the way back to the dock, I was able to give him the thumbs up. This boat, with twin Torqeedos on the transom, did indeed plane and reached a top speed of 17 mph—with just me, and no other gear, aboard. I can't say I was astonished, but I was impressed. Not just with the performance, but with the entire package of motor, control and battery that Torqeedo is offering.

This great design, however, comes at a price that will limit its practicality for most boat owners.

Torqeedo is a German company that offered its first electric motors in Europe in 2005. Torqeedo motors are designed from scratch as propulsion outboards, so unlike the electric positioning (trolling) motors that are designed to deliver short bursts of thrust, these motors are engineered to operate at high rpm for an extended period of time. The motors are a brushless, digital design with the rotor holding rare earth magnets on the outside and the coils on the inside. Torqeedo says this moves the field further away from the output shaft, enhancing torque.

A key difference between an electric motor and an internal combustion engine is that an electric motor makes 100 percent of its peak torque instantly. To take advantage of that torque, Torqeedo multiplies it through gear reduction and utilizes a propeller with a relatively large, 12-inch diameter and aggressive pitch. A large prop turning slowly is always good for efficiency. The pitch and camber of the prop blades are variable, using a method of calculation Torqeedo says is also used for large ships.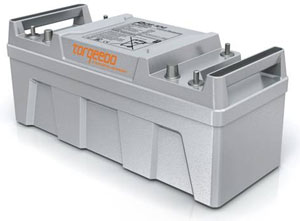 Efficiency is paramount because the utility of an electric motor is limited by battery size and weight. (It's the same problem faced by electric automobiles.) Torqeedo motors can be powered by standard lead-gel or AGM batteries, but the company has also developed its own 24-volt Torqeedo Power lithium-manganese power cells that weigh only 44 pounds each—about half the weight of two traditional batteries. Each Torqeedo battery holds 2.7 KwH of power. The cells are enclosed in a case with carry handles, and each has a data port that communicates with the outboard and the display on the control.

In its literature, Torqeedo makes an interesting case for the efficiency of its motors, which it claims convert 56 percent of the energy going into the motor into propulsive power. Not bad, compared to the five percent conversion for a small petrol outboard. In other words, 95 percent of the energy in a gallon of fuel is lost to heat and propeller inefficiency, according to Torqeedo.

That may be true, but as Torqeedo also notes, it doesn't really matter; 44 pounds of petrol contains a lot more energy than 44 pounds of lithium-manganese power cell, so we can waste a lot of it and still be happy.

The Torqeedo motors do have some good applications right now, mostly on small lakes and ponds where gas engines are not permitted. I could see rigging a set of these motors on a small  boat used for a slow evening cruise around the lake—it would be nice not to hear a motor at all.

Back to my ride. The Bay Hawk is laid up with Kevlar composite and the hull alone only weighs 395 pounds, so it's a good choice for this demo. The pair of motors weigh 75 pounds; they require four batteries at 44 pounds each, or 176 pounds for power. (That's about the same weight as 29 gallons of petrol, if you are keeping score.) Torqeedo says the Twin Cruise 4.0R motors offer performance equivalent to a 15 hp petrol outboard. A Mercury 15 Fourstroke and six gallons of petrol weighs about 150 pounds. So all combined, the electric power option weighs about 100 pounds more than a petrol outboard of equal power.





At first the twin-lever control felt a little dainty; I think it could use a little more friction. And I was very conscious of all that instant electric-motor torque as I backed away from the dock and around pilings. The control is equipped with a display screen for each motor that shows battery charge status, remaining range, current speed (per built-in GPS), and the input power in watts.

Once out on open water, I throttled up and the boat accelerated smartly. From a dead stop, I was able to select full power and the boat took off without blowing out the props, which I thought might happen. Did it plane? Yes, but it took some distance. But who's to say how long it would take a 15-hp gas outboard to plane this boat? Probably about the same. The fact is this boat is underpowered with 15 hp on the transom. With a 40-hp outboard the boat will run 35 mph, according to the manufacturer.

I did not head out with a full battery charge, so I can't say what the range might be. And it all depends how fast you want to go, of course. On a different boat that weighs about the same as my test rig, Torqeedo claims a range of 17.3 miles, or a little more than an hour, at full throttle and 16.2 mph. At 9.9 mph, you could go 20 miles, and at half-throttle, or about 7 mph, the range is 24.5 miles. When the batteries are depleted, it will take 11 hours to fully recharge using the Torqeedo 350 watt charger. So for every one to three hours of running, you'll spend 11 hours charging.



There's no question that these Torqeedo outboards are a well-engineered product, and they seem to work well. However, right now they are just too expensive to be a very practical alternative for most people. I would have said the same thing about electric cars a few years ago, but that's changing fast with the introduction of the all-electric models like the Nissan Leaf. So maybe in 10 years, we'll look back at these Torqeedo motors and think we've come a long way.



Charles Plueddeman is Boats.com's outboard, trailer, and PWC expert. He is a former editor at Boating Magazine and contributor to many national publications since 1986.