See more articles
New UK Dan Buoy distributor
British marine safety clothing and equipment manufacturer, SeaSafe Systems, owned and operated from its factory in Cowes on the Isle of Wight, has been appointed the UK distributor for the award-winning SOS Dan Buoy
SOS Marine is an Australian manufacturing company that designs lifejackets and safety equipment for the armed forces, police and emergency services - and the inflatable SOS Dan Buoy is one of its key marine rescue devices. It is a compact flotation rescue unit that automatically inflates upon immersion in the water when thrown overboard. With no MOB release mechanism to activate, the SOS Dan Buoy can potentially save up to five seconds, which can be critical to the success of a rescue. It is also the only flotation device in the world to be tested to international lifejacket standard, ISO 12402.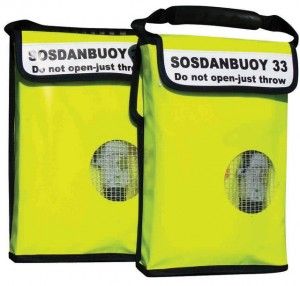 To ensure better visibility, the SOS Dan Boy uses SOLAS-approved retro tape, which has the highest visibility rating when under the UV searchlights used for detection in inclement conditions. And in addition, the unit can be used as a marker by simply unclipping the sea anchor and replacing it with a conventional anchor chain.

This new, affordable and simple to use safety unit is suitable for all vessels, and as well as being compact, simple to use and easy to stow, the SOS Dan Buoy is reusable after a service and relatively affordable at £174. For more information, see Seasafe.