See more articles
New flagship Raymarine display launched
Raymarine's new flagship multifunction display (MFD), the e165, has been launched at the HISWA show in Amsterdam.
The new eSeries unit sports a 15.4-inch, 16:9 wide-format display and yet it sits in the same footprint as a traditional 14-inch screen, giving 20 per cent more screen for the same helm or dash space. The arrival of the e165 also means that eSeries MFDs are now available in four sizes - seven-inch, nine-inch, 12-inch and 15.4-inch.

Like its smaller siblings, the e165 is able to network up to six displays, plus sonar, radar and thermal accessories. The super-bright LCD display is backlit with LEDs to improve power efficiency and to provide effective linear brightness control. But the primary asset is its ability as a powerful multi-tasker. With three processors (a dual core main processor and a third dedicated graphics processor), the graphics are dazzling, the video is finely expressed and chart redraws are virtually instant.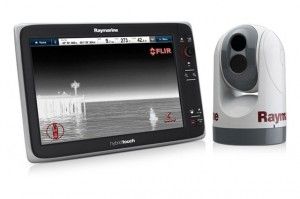 Raymarine's LightHouse user-interface makes it very easy to use and the inbuilt Wi-Fi combined with Raymarine's new apps enables the streaming of live video to tablets and smartphones in real time. In short, what you get with this unit is the ability to access and control navigation charts, thermal video, radar or sonar information from absolutely anywhere on board your boat.

Available with optional Silver-level Navionics cartography on microSD (upgradeable to Gold and Platinum on chart chip), the new e165 eSeries HybridTouch MFD starts from 5,825 Euros and will be available in the UK from October 2012. Visit www.raymarine.co.uk for more.