See more articles
Ebook for boaters
Waterproof solution from the official kit supplier to the RNLI.
OverBoard, a leading designer of waterproof travel and sports gear (and official kit supplier to the RNLI) has announced a new product for boaters known as the eBook Reader Case. With a class five waterproof rating, users will be able to read their favourite ebooks in the bath, by the pool or beach, on a boat or anywhere outside during the unpredictable UK winter season. The eBook Reader Case can also protect users' much-loved gadgets from general wear and tear, as well as dust, sand and dirt.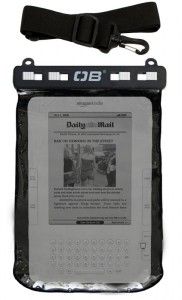 Not only will the OverBoard eBook Reader Case float if dropped in water, but it is also submersible down to a depth of six meters, thanks to OverBoard's 'Slide Seal' System. This mechanism at the top of the case is very simple to use but once sealed in the 'lock' position, they guarantee genuine waterproof, winter protection.

Compatible with a whole range of eBooks including the recently launched Kindle Touch, Sony Reader, Aluratek LIBRE and other small, touch-screen tablets, the eBook Reader Case from OverBoard contains a transparent face, which enables full use of the device's touch screen controls without compromising protection. It comes complete with a detachable shoulder strap and is available at £27.49.