See more articles
Discovery 50 review
High standards of materials and top-notch construction are combined in this British-built multihull.
A friend lamented recently that catamarans seem to be evolving into utilitarian white-surfaced boxes rather than performance-oriented boats with rich finishes. It's true that the proliferation of cats in the charter trade has led to a focus on volume over performance, and an increased use of durable finishes rather than finely joined woodwork. Much of this direction is quite practical and makes sense, given how hard a charter boat works. But there are plush, high-end alternatives available, among them a 50-foot catamaran from Discovery Yachts. The company's fourth design and first multihull, the Discovery 50 builds on a reputation of quality, attention to detail, and easy sailhandling.





Key Characteristics
Designer Bill Dixon gets high marks for creating a vessel that looks so low and sleek from the outside that it belies the multiple levels in the interior. He also gets credit for making such a large boat ideal for a couple, due to its effortless sail management and handling. Many of the critical shorthanded systems aboard are standard, like the in-mast furling main, electric winches, and autopilot. All lines are led to the cockpit, which make for easy handling. A code-zero asymmetrical spinnaker on a furler and a self-tacking jib on a Solent stay with a curved Harken track are also available.

A Discovery trademark is a hot tub on the foredeck. If you're in the tropics and are already hot, it can be used as a small "splash pool" in case the surrounding waters are uninviting.



Accommodations
The most notable feature of the interior is the option for an owner's suite forward, just a few steps down from the saloon. Ducking my head below, I was struck by the immensity of this cabin that spans the beam of the boat and includes ports that face forward, so you never have to stir from the pillow to check the boat's heading. Super yacht interior specialist Ken Freivokh missed nothing in creating a comfortable, practical, but also very sumptuous layout, including a forward-facing nav station with good visibility and a double seat, and his-and-hers heads flanking the giant forward master.

There are other layout options available, including four cabins (with doubles or singles that can convert to doubles) and an owner's hull stateroom that allows for two additional doubles forward. The saloon design features a well–appointed U-shaped galley to starboard and a dinette to port that will seat six comfortably—eight in a pinch. The starboard corner includes two deep lounges that beckon after a long day on the water. The standard joinery finish is cherry with options in maple or light oak.

Construction
The hull incorporates a high-density foam core, which provides exceptional stiffness and insulation. The glass layup is reinforced with carbon fiber and Kevlar, and is vacuum-bagged. An extensive network of stringers and bulkheads provides substantial stiffness and strength, and both hulls and the central bridge are molded as one unit. The bridge deck provides good clearance to minimize pounding when in rough seas, and there are watertight bulkheads forward and surrounding the engine rooms aft.



Systems & Options
The Discovery 50 standard features list is surprisingly comprehensive and includes necessities like a Raymarine C90W multifunction display and 4kW radar, as well as a few nice-to-haves like pocket sprung mattresses and heated towel rails. But with a boat of this size there are always options available, three of which would certainly make my list. First, the overhead bimini is available as a hard top – hard enough to walk on and reach the boom. Second, the standard is to choose either a 7kW genset or two high-output alternators. I'd get both. Finally, there's no such thing as too much power when the seas kick up, so I'd upgrade the 54-hp Yanmar engines to 75 hp. Additional electronics, safety gear, and plumbing and heating equipment is also available.

What it Does Best
The Discovery 50 is positioned as a premium luxury catamaran designed to be sailed short-handed by a couple, and that's exactly what this design does well. The finish, layout, attention to detail, and price tag ($1.3 million base) all reflect a focus on quality.

And despite its size and complexity, this boat is easy to sail with just two. Part of that ease of use is in the rigging. The in-mast furling main is easily managed, and it's possible to reef right from the helm station with the help of electric winches and many line-stoppers. Additionally, built-in redundancy helps keep critical systems working until a safe port is reached and there's time for repairs. Last but not least, it's a good-looking platform that will be the envy of any distant anchorage.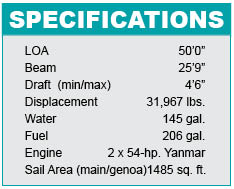 Similar Boats to Consider
There are a number of 50-foot catamarans that might be tempting to compare to the Discovery 50, but many of them are built for charter and have an entirely different focus. There are two designs that might come close. One is the Gunboat 55, but that is pricier, speedier, and more utilitarian in its accommodations. The second and closer one is the Catana 50, which is a bluewater cruising cat designed to go the distance and provide plush accommodations.

Where to Learn More
Check out the Discovery 50 catamaran as well as its three monohull sisters at Discovery Yachts.

Read John Burnham's blog: Discovery 50, a Catamaran to Sail the World

—Zuzana Prochazka