See more articles
Arcoa Le Yacht 62 review
The top offering in Arcoa's range has some British influence in its French good looks…
Based in the Lorient in South West Brittany, France, Arcoa build a small range of exclusive motorboats where the emphasis is on a rugged build quality and a high degree of customisation. Topping the range in the 'Le Yacht 62,' a pocket superyacht with a price to match.




If you are prepared to spend around €1.7 million on a motorboat, then you're going to want something very special. Arcoa, a small but very successful yard in western France, will be more than happy to oblige. After all, Arcoa has been building motorboats since the 1897, and the name is as well known in France as Princess in the UK, or Brunswick in the States. The big difference, however, is that Arcoa don't manufacture production boats with options. Instead, they create an owner's dream from the keel up.

"If an owner wants something altered or added, they can have it," remarked the affable CEO Phillipe Guglielmetti. "For example, we had one client who wanted one of our 52's, but realised it wouldn't fit under a low bridge near his mooring. So we built him some internal ballast tanks that flood the boat down by 15cm without alarming his guests. We also made an automatically retracting radar arch. Another client wanted the entire galley designed around her favourite icemaker. No problem. Custom building isn't always a good way to make a profit, but it works for us."

Plenty of ideas

The Le Yacht 62 is one only four models of motor yacht in the current portfolio, all designed to be owner-driven, and ranging from 10m (35ft) to 19m (62ft). There are no stock boats - production is very much to order, and totals between 10-15 boats a year.

The designs are from the board of Remi Nobileau, who began his career working with the celebrated British designer Tony Castro. You can still detect some British influence in the French good looks.

The layout of the 62 is hard to pin down, because it is very much up to the owner. Non-structural bulkheads can be moved around almost on a whim, although in reality few depart too radically from the standard layout, as it maximises the boats potential. One of the first things you notice as you step aboard is the vast expanse of teak decking in the aft cockpit, and the very sociable layout of the main saloon.

"The clients who will buy an Arcoa could probably afford a 50-metre superyacht," Guglielmetti explained. "They are successful business people who often have their own staff at home – cleaners, drivers, cooks and so forth. But they also want to spend quality time afloat with their family and friends, with no paid help on board, so the boats have to reflect this choice. Their Arcoa must be luxurious, solid, sociable, easy to handle, and unique."

Because Arcoa receives so much input from experienced customers, there are dozens of clever design touches throughout. For example, the rear saloon windows lift up electrically to open the saloon entirely to the aft cockpit. Here, panels recessed into the floor rise up on scissor jacks before locking together to form extra sun beds, or a table for 8. The bathing platform too, runs up and down on hydraulic rams, allowing the easy launch and recovery of a tender without guests having to get their feet wet, or make an undignified lunge. The tender itself stores out of sight in a garage beneath the cockpit sole. Dozens more innovations run right through the boat.

Accommodation

Standard accommodation is for six, with an aft-facing double in the full width forward cabin, and a forward facing double in the owners suite amidships. A further two singles are to starboard, and all three cabins have their own en-suite facilities. There is an option for a skippers cabin right aft, behind the engine room, again with it's own toilet facilities, although the 62 is designed to be owner driven. It even has electric winches so ropes can be hauled with minimal effort. Another berth can be made up in the saloon, making a total of eight.



The helm position to starboard has a large semi-circular dining area opposite, allowing the guests to keep the skipper company on a long passage, whilst still enjoying forward views themselves. The galley area is also in the main saloon, a design often seen on Scandinavian boats. Here, as with the Arcoa, the idea is for the galley slave to also enjoy the great outdoors, and socialise with the other guests.

Build quality

Under construction during our visit were a Le Yacht 62 and a Le Sword 52, and it was evident that the build quality in both was extremely high. Even without full customisation, the price reflects the very robust standard of construction. These yachts have a reputation for punching effortlessly through bad weather, and also for a top level of sound suppression.

The hulls are made from osmosis-resistant isopthalic polyester resin vacuum-infused over Corecell by a local subcontractor, and very heavily laid up. Orthophalic resin is used for the innermost layers. The gelcoat, however, isn't regarded as the final finish.

Instead, it is labouriously faired, primed and spray-painted with Awlgrip. Not only does this give a mirror flat finish, it also allows owners to have any colour they want.

Throughout each hull, a lot of the quality (and cost) of the build remains hidden. The stringers, for example, are the same dimensions as those found in military RIBs drop-launched by helicopter. The soundproofed 20mm plywood bulkheads are secured to the hull with wide expanses of layup, and this reinforcement is taken right down and across the floors. There are no gaps in an Arcoa, and no shortcuts. The engine room bulkheads, for example, have triple the width of sound insulation compared to a production boat of a similar size.

The quality of the woodwork is also very high. The teak-laid decks are made from solid strips of 10mm wood, rather than the more usual 6mm veneers, and even the hull-to-deck join is massively over-engineered. The hull to deck joint is through-bolted every 10cms and laid up on the inside as well. Guardrail bases aren't backed with plywood pads– instead, they attach to large aluminium plates that are incorporated into the hull. Basically, these boats are as solid as they get.



Power

Power comes from either a conventional shaft drive, or via Volvo's IPS (Inboard Performance System) pods, with their forward facing counter-rotating propellers. The standard option is for a pair of shaft-driven MAN 800hp diesels, up to a maximum of 1,100hp units. The IPS system can average up to 6 knots more than conventional drives, gives better range, and obviates the need for a bow thruster, but some owners still prefer the lower torque and more conventional shaft drive set up. On shafts, you can expect cruising speeds 22 knots on the 800's, and 24 knots on the 1,100's, with a top end of 31 knots and 34 knots respectively.



The buyer

Arcoa continues to take orders from wealthy customers unphased by the recession. After all, this is not the kind of boat you take out a mortgage on, so the credit crunch doesn't really apply. Due to the low volume of build and the luxurious quality of the finish, the resale values also remain high.

Arcoa's main task is to convince the buying public outside France that their boats are something rather special. "Most French motorboaters identify with the Arcoa brand, but other European countries just see an expensive boat," Guglielmetti said. "We have to push the message over as to why these boats are so exceptional. Unfortunately a lot of the reason is hidden away beneath the décor and the floorboards."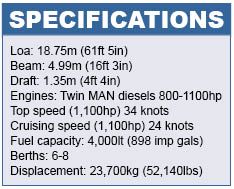 However, when it comes to client relations, this comparatively small yard runs itself very much on the Dutch model. "Clients become our friends, and we make sure they can drop in any time they like, and see their boat being built. After all, each one will have had a great deal of thought put into it by the client, including the occasional flash of genius."

Little wonder, then, that these boats are so exceptional. If you don't believe me, step aboard one at a boat show, and ask to check beneath the floorboards – the ones that don't rise up to form a table, of course. For more details see Arcoa Yachts