See more articles
Welsh Marine Conservation rethink
Alex Smith share his passion for the Welsh coast...
Wales is a superb place for recreational boating, with deep, hill-lined estuaries, craggy wave-cut coastlines, epic mountainous backdrops and some of the best and most varied marine wildlife in the UK. Compared to parts of the English south coast, it is also relatively quiet, with vast tracts of open space enabling you to enjoy a rare slice of serenity even in high season. Small wonder then that there is a keenness to protect, preserve and manage the Welsh coastal and marine habitat.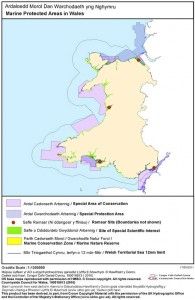 However, in the face of widespread criticism, the Welsh Government has backed down over its latest provisional plans to introduce ten Highly Protected Marine Conservation Zones (HPMCZs) off the coast of Wales. There are already 125 Marine Protected Areas (MPAs) in the country, from Sites of Special Scientific Interest to European Sites, Marine Nature Reserves and Welsh Marine Conservation Zones - but the key fear with these additional ten regions was that they would limit people's ability to go boating - in direct contravention of the Welsh Government's laudably proactive approach to the promotion of coastal recreation.

In all respects then, this development looks like excellent news. After all, we are no strangers to the imposition of counterproductive bylaws in the UK. One of the most glaring examples was in the English Lake District, where attempts to preserve the environment were made at the direct expense of marine recreation and the communities that depended upon it. The last thing we need is to see the often Draconian and shortsighted approach of local decision makers ramped up to a national scale – so naturally, the RYA is delighted with the Welsh Government's openness to a fresh consideration of the issue.

Caroline Price, RYA Planning and Environmental Manager, said: "This is good news for recreational boating. The impact of the proposed zones on the club network in North West Wales in particular could have led to a reduction in opportunities to go boating and therefore a reduction in boating itself". Instead, it now seems likely that Welsh Government will reconsider its existing 125 MPAs to see if any changes can be made to those, before looking at the creation of additional zones. To follow the story as it develops, visit the RYA.