See more articles
Tollesbury Marina launches Active Marina Programme
On a dark and stormy day, Tollesbury Marina on the Blackwater in Essex, celebrated their official launch of the RYA Active Marina Programme by offering their berth holders a series of workshops and practical boat handling exercises
Tollesbury is the latest in a growing number marinas across the country to sign up to the scheme which encourages boat owners to get more out of life with their boats by gaining the confidence and skills to leave their berths and get out on the water more often.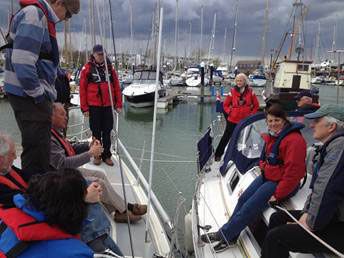 Jointly organised by Tollesbury Marina and Tollesbury Cruising Club, the event was led by instructor Martin Hubbard, principal of Martin Hubbard Powerboating, Shotley, who took the 11 sailors through a series of workshops in the clubhouse. They then took to the water on a couple of the participant's own boats for a session of boat handling in and around the marina.

"They were a wonderful bunch of people to work with, there was plenty of banter and sharing of knowledge and experiences, which helped to make this a relaxed and purposeful day" said Martin concluded after the event.

Two of the participants, Dave Cooke, who owns a Westerly Falcon called Nimrodel and Hilary Morgan, who sails a Maxi 1000 Quicksilver, commented they had enjoyed the day, picked up a lot of useful hints as well as receiving confirmation that they'd been doing it right for years!

Dave Cooke, who is Tollesbury SC's Active Marina Co-ordinator and a past Commodore of the sailing club, commented: "It was a really enjoyable day-great to spend some time concentrating on key skills with fellow sailors."

Marina owner Julian Goldie added: "It was fantastic to see people getting involved with the programme."

The programme encourages and supports increased berth holder activity by partnering with marinas, RYA recognised training centres, berth holder groups and yacht clubs to establish or enhance a programme of training, cruising and social opportunities.

To find out more information about the Active Marina Programme and if your marina has signed up visit RYA Active Marina Programme. If your marina is already an Active Marina, speak to your marina manager to find out about this seasons opportunities and events.