See more articles
Team 73 wins P1 150 Race to Poole
The P1 SuperStock 150 Cowes-Poole-Cowes race was won convincingly by Team 73
The Team 73 duo of Rose Lores from Stubbington and John Donnelly from Hampshire won the Cowes-Poole-Cowes race in the P1 150 class, finishing over six minutes ahead of reigning champions Stuart and Sara Cureton in their Team Purple vessel (later disqualified for losing the engine cowling).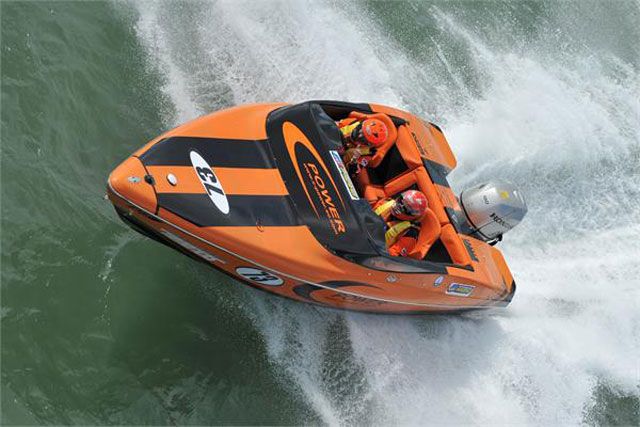 Scorching into an early lead, Team 73 put together an excellent race and although passed midway through by Team Purple the latter had lost the cowling from their boat and so had to drop back meaning Rose Lores was able to celebrate a famous win.

"The start was very rough and bumpy but everyone else was asleep", she commented, "We just ploughed on and kept it steady, we didn't turn and look round we just kept going. Team Purple did catch us up and overtook but they'd lost their cowling so we knew they had to drop back. It really is fantastic to win, we're really happy."

Stuart Cureton of Team Purple added: "It was going quite well until we lost the cowl – when we realised that had gone we just cruised home, end of story for us. It has been a good year up to now overall but we did have a retirement in Eastbourne and now we've just had this which isn't good. It's going to be all to play for in Weymouth."

Macdonald Mermaid, the P1 150 championship leader prior the Cowes-Poole-Cowes race, Pertemps Mission Motorsport and Black Magic were all given 30 minute time penalties due to each crew missing the correct marker at the finish gate.

David and Kirsty Toozs-Hobson (from Arundel) were credited with second place in Mermaid, and therefore retain the lead of the class title race, while Mark Neale and Daisy Coleman were third in the Mission Motorsport vessel and father and daughter Vince and Jade Berridge finished fourth – the latter two crews having enjoyed a superb battle during the run to the finish.

Weymouth in Dorset will host the eagerly-awaited final round of the P1 SuperStock Championship just three weeks from now on September 15-16.