See more articles
Largest motor yacht debuts in Cannes
The largest composite motoryacht ever built in France has made its debut at the 2012 Cannes Boat Show.
The 50-metre La Pellegrina, built by the famous Couach shipyard, uses carbon and Kevlar reinforcements in the construction of its hull, making it not just more shock-resistant but also more rigid, lighter in weight and faster than less advanced hull forms. Particular attention has been paid to ride comfort on long sea passages, with very muted engine noise and uncommonly acute hull angles at the point of entry to help soften impacts.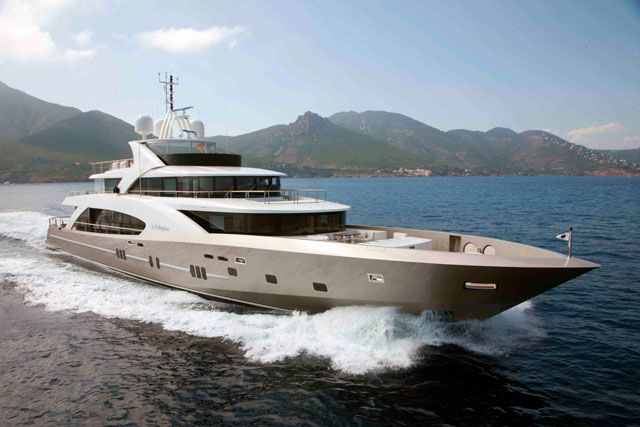 Designed to be both fast and long-legged in all weather conditions, this 296-tonne craft is powered by a pair of 5,300hp engines, generating 30 knots at the top end, with an impressive cruising speed for a boat of this scale of around 25 knots. And yet, according to the builders, the new boat is still capable of running at 12 knots with a very meagre fuel flow of just 180 litres per hour and a huge, ocean-munching cruising range. With 500 square-metres of accommodation, and space for 12 guests in six extremely luxurious cabins, La Pellegrina offers a panoramic top deck view, a huge lounge-dining room with around 75 square metres of floor space and predictably exclusive standards of fit-out.