See more articles
Kip Marina Joins Active Marina Scheme
Kip Marina has been officially welcomed on board as an RYA Active Marina at the Scotland Boat Show.
Kip Marina is only the second marina in Scotland (after Largs Yacht Haven, see Largs Kicks off Active Marina programme) to join the scheme and RYA Scotland attended the show to present Kip Marina with its Active Marina flags and banners. They also had a stand in the marquee alongside Seatrek Training to tell everyone about the new recognition for the marina and to promote the programme that Seatrek Training will now be running from Kip.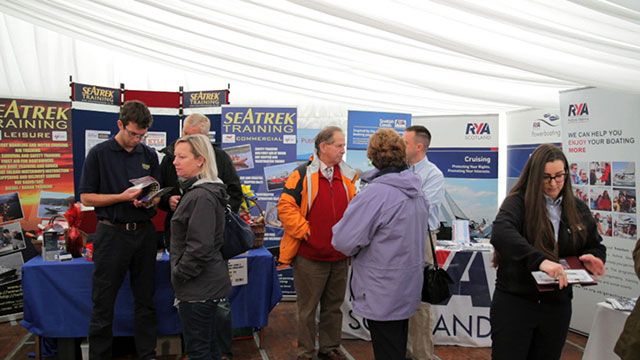 Lesley Robertson, Director of Seatrek Training, said: "Seatrek is delighted to be working with Kip Marina in promoting the Active Marina programme. The calendar will include ladies, juniors and general open days, boat handling days with bacon butties and a summer club for the youngsters".

And Duncan Chalmers, General Manager at Kip Marina, was equally enthusiastic: "We at Kip were keen to become involved with the RYA Active Marina programme as an increasing number of our berth holders were new to the sport and needed more time spent with them than any marina staff could afford. This led us to more formal training from companies like Seatrek, but that initial step to get owners involved was always tricky. The RYA Active Marina programme offers a relatively informal way to get trainers and customers talking - and with some Cruise-in-Company events to look forward to next season, we feel we can keep owner interest going over the winter too."

For more on the Active Marina Programme, see Activate Your Marina Workshops a Success and Tollesbury Marina launches Active Marina Programme.

You can find out more about Kip's Active Marina programme at Kip Marina or see Seatrek Training or RYA Scotland.