See more articles
Baby Barracuda doubles the range
Beneteau brings additional versatility to the sports fisher format
When they launched the new Barracuda a year ago, one of Beneteau's key aims was to bring additional versatility to the sports fisher format - and with the original Barracuda 9, they certainly achieved that. It was enthusiastically received all over the world, so it comes as happy news that from September 2012, the Barracuda 9 will be joined by the smaller Barracuda 7.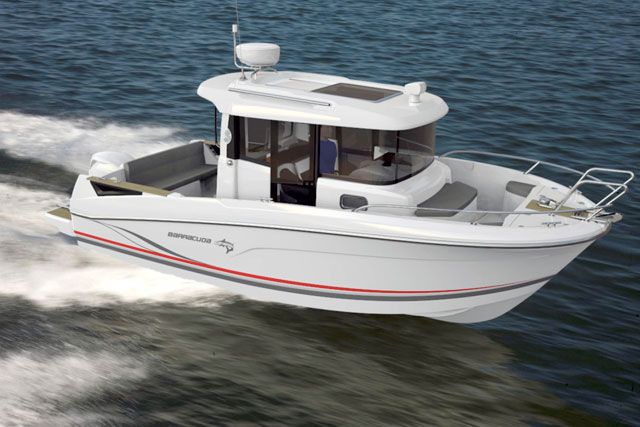 With the same flared bow, spacious wheelhouse and intelligent deck plan as its larger sibling, the new boat will be fitted with a single outboard engine of between 150 and 200hp, giving it a likely top speed of around 35 knots. Depending on customer requirements, there will be a choice of a 'Fishing' pack or a 'Well-being' pack, but in either case, the new boat looks well able to cater for the needs of recreational fishermen. The hull is designed to be both soft-riding and very stable, while the huge cockpit is designed to enable great freedom of movement for easy casting. The boat also comes with three lockers that can be converted into fish bins, plus a stowage area in the starboard quarter, which can be used as an anchor locker or an optional fish tank, depending on your needs.

With a very broad beam of 2.75 metres (exceptional on a 6.5 metre outboard-powered motorboat) it is very easy to walk around the wheelhouse, courtesy of wide catwalks and very deep and cosseting 60cm freeboards. Inside (through a pair of lateral sliding doors), the wheelhouse is bathed in natural light, thanks to the sliding roof panel. And the modularity of the Barracuda 7 also allows for an extra galley with sink, a site for the stove, plus a refrigerator and additional storage. The presence of a fore cabin (double berth and separate toilet) is a particularly impressive feature on a 6.5-metre boat. Up at the helm, the skipper can enjoy (optional) heating and air-conditioning, plus a ten-inch screen on the instrument panel and a Lowrance electronics suite, including the new 'Scan Structure' depth sounder system.

The Barracuda 7 will be shown for the first time at the Festival de la Plaisance de Cannes (The Cannes Boat Show), before making an appearance at shows in Oslo, Stockholm, Amsterdam, Istanbul, La Rochelle, Genoa and Southampton.