See more articles
Use your iPad as a chart plotter
There's a whole lot more you can do with your iPad than just viewing music and videos… Rupert Holmes outlines the apps and how you can navigate by iPad
The rise of tablet computing stands to fundamentally change the way in which we use instruments on board. When navigating large racing yachts I've always enjoyed having charts and a whole host of data available on a portable touch screen that can be used anywhere on board. But until recently this convenience has come with a hefty price tag for the ruggedised hardware, sophisticated Windows-based software and charts, so I've never been able to justify equipping my own boats with a similar system.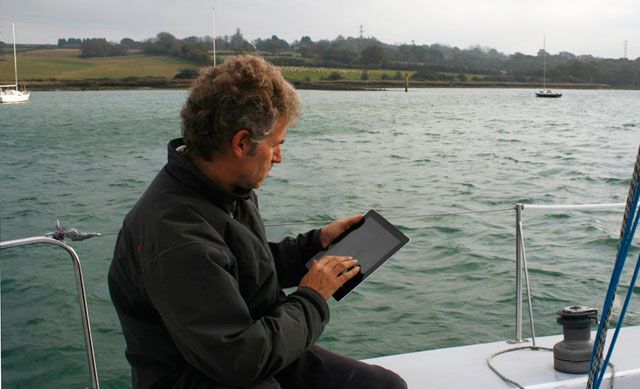 However a 3G iPad – which can access GPS satellites – running the Navionics app can perform many of the core functions that skippers of sailing yachts and motor cruisers need. The app was interesting on the iPhone – particularly as it provided the entire chart set for much of northern Europe or the Med for around £20 – but the extra screen size of the iPad takes it into a new league.

The cost is somewhat higher if you have to buy more than one chart set – the apps vary in price between around £35-45 – but most users will find they only need a single area and all of Europe including the Mediterranean is covered by just three apps.





A second barrier to using race-bred navigation software is that a considerable amount of time is needed to learn the system. However navigating with a device that you use every day means all the gestures and swipes come naturally. For instance, entering a waypoint could not be easier – just zoom into the area in which you want the waypoint and tap the screen in the right spot. Want to move it a little to one side? A couple more taps brings up the edit menu and you can drag to exactly where you need it.

Of course, there are regular chart plotters that will now do this, and although they are cheaper than the full-on PC-based race systems, they still come at a steep price and can only be used for one purpose, which is starting to feel like a very old-fashioned concept.

In use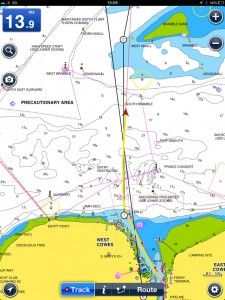 On the plus side, charts downloaded remain on the device and function without mobile coverage. There's also an increasingly useful layer of user generated content – it's possible to add your own tags and photographs which can be referred to when re-entering the same port at a later date. And if in network range access geo referenced articles online. Up to 99 routes can be created, each with up to 99 waypoints. You can also download tracks, routes and markers to a PC, or share them directly on Facebook or via email.

Range and bearing from your position to any chosen point is easily measured, and then continuously displayed – ideal when using clearing bearings, or for cross-tide pilotage. It's also quick and easy to measure bearing and distance between two or more points. Tide and current data is available at a glance – both in graphical and numerical formats.

Downsides
Of course, there are also downsides to using an item that's not designed for marine use. The most obvious are that it's breakable and not even waterproof. However, the latter problem can be solved with Scanstrut's waterproof and shockproof case. Another drawback is that the screen is not as easily visible in bright sunlight as marine grade screens.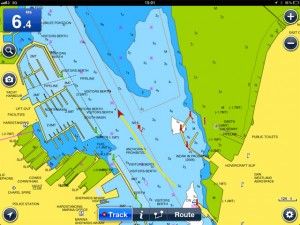 On the plus side, the vector charts include plenty of detail that's available when zoomed in to close detail, although some key elements are not available at lower levels of zoom, which can make it difficult to get an overview of an entire passage.

In practice
For a wheel-steered vessel it makes sense to mount the iPad at the helm, where it won't be vulnerable to being dropped or accidentally hit by feet, elbows or winch handles, with the iPad  protected by a silicone case. Battery life is sufficient for most purposes - the iPad 2 gives around 10 hours of use. On a long passage, when a sailing vessel may be on autopilot in any case, there's no need to leave it switched on all the time. The screen will turn black, but the Navionics App will keep running, recording a track and receiving GPS signal.

Alternatively it can be safely mounted below deck, where it can be protected from the elements and accidental damage, but available to be carried on deck if necessary, such as when entering an unfamiliar port.

While Apple seems unlikely to bring out a waterproof, bombproof version of the iPad – the Android ecosystem, for which Navionics produces an equivalent app, is a different matter and it may only be a matter of time before a manufacturer introduces a fully ruggedised model for engineers and surveyors to use in the field – and that will be perfect for use on board.

Those who regularly sail overseas, whether on their own boats or chartering, don't need to worry about punitive data roaming charges – the 3G iPad is able to access GPS satellites with data roaming turned off.

Verdict
Although not intended as a direct replacement for paper charts or as a dedicated plotter, the app is clearly useful – granted it may not do everything you expect of a high-end plotter, but equally it will do other things that no dedicated plotters currently offer. It can also be interfaced with a vessel's instrument system to display data that's available in NMEA formats.

As apps go, it's extremely expensive and upgrades are not necessarily free, but the price still makes it almost a no-brainer for anyone who already owns an iPad. It also raises the bar for marine electronics companies.

Further reading: on a similar subject, you can read Lenny Rudow's interesting blog on using your mobile phone as a chart plotter here.



Rupert Holmes has cruised and raced more than 60,000 miles, between 60 degrees north and 56 degrees south. He writes about all aspects of boat ownership and marine travel, including destinations, seamanship and maintenance, as well as undertaking regular boat and gear tests. He owns two yachts, one currently based in the Aegean and the other in the Solent.