See more articles
Waterways shopping trolley blight: new app launched
New app launched to help the Canal and River Trust turn the tide on the dumping of shopping trolleys in inland waterways.
In all the world, few crimes can offer more complete and incontrovertible confirmation of your lack of wit, ideas and ambition than stealing a shopping trolley and dumping it in a waterway.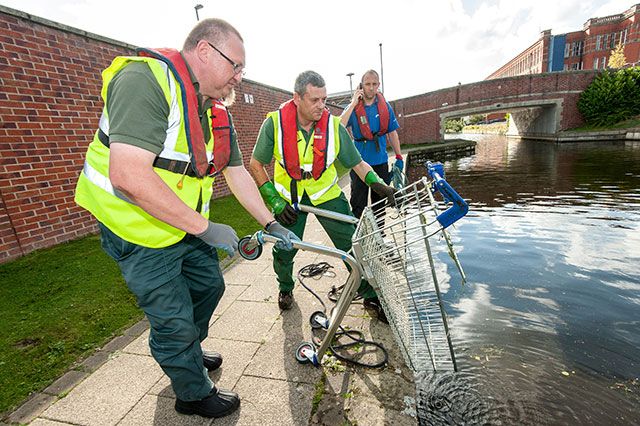 Now I don't want to get involved in discussions about the merits of crime – but at least some forms of misdemeeanour are accompanied by dubious justifications, like the madness of passion; or the grinding desperation of poverty; or maybe even the thrill of outlandish risk. But stealing and dumping a shopping trolley in a historical waterway, where it sullies the scene, bends props and compromises gearboxes? Well that's just a massive pain in the backside, so it's great to see that the Canal and River Trust (the body responsible for managing the 2,000-mile inland network of England and Wales) has had enough...



It has teamed up with Trolleywise, (an organisation dedicated to retrieving abandoned supermarket trolleys) in support of a free Trolleywise app, which enables us to report a dumping the moment we see it. Canal & River Trust Senior Environmental Scientist, Karen Jackson, explains: "We've made great strides over recent years in tackling shopping trolleys dumped in canals and rivers, but there is still more to do. Abandoned trolleys aren't just unsightly, they damage boat propellers and cost us thousands of pounds every year, which would be better spent conserving our waterways. We hope this new initiative will give us another weapon in the old battle between trolley and canal."



Under the new system, Trolleywise will be made aware of problem trolleys either via the app or by direct contact. They will then log the data and remove the trolley from the water before recovering the cost from the supermarket in question. With any luck, this approach should then free up CRT staff to concentrate on the daily job of maintaining the waterways for everybody's enjoyment (with campaigns such as: Slow Down and Save our Heritage and Canal and River Trust website offering free listings).



If the current trial on the Pennine waterways is successful, it will be rolled out across the country – but in the mean time, if you enjoy inland boating, do your bit by downloading the app and getting involved.